Mitsubishi Ductless Mini-Splits
Functions and Benefits of Mitsubishi Mini-Split Systems
Traditional air conditioning systems are considered "central split" systems since the equipment resides both inside and outside the home. A ductless "mini-split" system works more efficiently, though, by separating the air handler and condenser. As in a traditional system, the condenser is outdoors; however, the air handler is mounted inside the home. When central forced-air systems aren't workable or cost-effective, ductless mini-split systems are a great alternative.
There are three primary components to a ductless mini-split system, including:
The outdoor condensing unit
The indoor air handler/evaporator
A three- to four-inch diameter conduit with refrigerant tubing, a cable for power, and the condensate drain
The condenser and conduit are run from the outdoor unit to one or more wall-mounted units inside your home, allowing you to control the temperature in different rooms or areas.
How Does a Mitsubishi Mini-Split Heat Pump Work?
A wall-mounted heat pump (inverter technology) with both heating and AC units is often used in mini-split systems to boost energy efficiency. With conventional ducted heating and cooling systems, the operating speed of the system is "fixed"; regardless of whether all the areas of your home are comfortable, it shuts off and comes on at regular intervals.
Inverter technology means no sudden starting and stopping cycles since it uses variable yet continuous cycles of increased and decreased power. You enjoy consistent temperatures that are maintained for more extended periods and reached faster than with a conventional system.
What Makes Mini-Split Air Conditioning So Efficient?
The ductwork in a central system delivers cool air to various rooms or "zones." There's energy loss, though – up to 40%. With a ductless mini-split system, the loss is only around one to five percent, meaning you save about half your cooling and heating costs.
Ductless systems consume 2,000 to 2,500 total watts on average, while each component of a central system uses approximately 2,000 watts — 4,000 in total. Moreover, the majority of ductless systems are capable of achieving a SEER rating of 30.5 and are ENERGY STAR-qualified. In contrast, a traditional central system typically has a SEER rating of 18 at most.
If you're used to a central heating and cooling system, no doubt there are hot or cold pockets in your home. A ductless mini-split system has multiple indoor units, all connected to one outdoor condenser, so cool air is delivered right where you need it. When one person prefers a warmer room and another like it cooler, there's no problem. Plus, you still enjoy a reduction in wasted energy, resulting in lower heating and cooling costs!
The condenser is the noisiest component of an air conditioning system, although it can be located as far as 100 feet away from the indoor unit. When compared to the rumbling noises typical of traditional forced-air systems and window air conditioners, a mini-split system offers much quieter operation. It's barely noticeable at a low setting.
Impact on The Indoor and Outdoor Environments
In most cases, just three indoor units can cool your entire home (when appropriately positioned by an expert HVAC technician). Compared to ductwork, less-costly three or four-inch conduit is faster and easier to install and allows increased flexibility. In most cases, it takes just a few hours to set up a mini-split system.
Mitsubishi ductless mini-split systems improve indoor air quality and can reduce humidity, creating a healthier environment — especially for those with respiratory concerns. Some mini-split models eliminate up to 99.9% of viruses and bacteria.
When it comes to protecting the environment, these systems are the best. They have a smaller carbon footprint due to their zoning capabilities and operational efficiency. Instead of ozone-depleting R22 refrigerant, newer systems operate using environmentally friendly R410-A.
The installers from Haley Mechanical, Andrew & Robert, were exemplary! From the time they arrived until they had finished the installation, they were courteous, professional, and conscientious. They kept us informed every step of the way.
Mark L.
Ann Arbor, Michigan
Every person at Haley Mechanical is friendly, prompt, and delivers the highest quality service of anyone I've ever worked with on a home project. It is a pleasure to call them because I know that my questions will be answered quickly and thoughtfully.
Patton D.
Dexter, Michigan
Types of Mitsubishi Mini-Split Systems
Unlike cumbersome and insecure window air conditioning units, ductless mini-split systems are typically mounted out of view, high on the wall. They're both stylish and compact.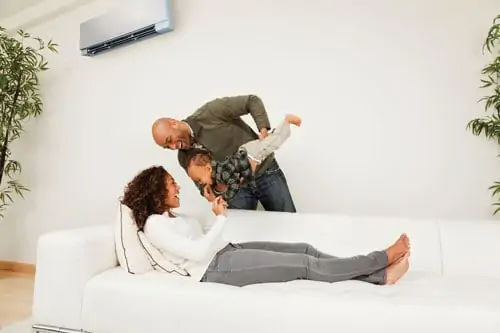 Wall-Mounted Ductless Mini-Split
These sleek wall-mounted units not only cool and heat your room, but they also monitor room conditions and adjust the fan speed accordingly.
Features
Zoned Comfort
Wall-mounted units independently manage the comfort of a single room and can maintain a precise temperature.
Improved Air Quality
Advanced filtration deodorizes and purifies indoor air, contributing to better health.
Remote Operation
Monitor and adjust your system with a remote control or create programs and schedules from your smartphone or tablet using a wireless interface.
Precise Comfort Control
Return air sensors on every unit monitor room conditions and automatically adjust to maintain the desired temperature. The 3D i-see Sensor™ (available on select units) uses infrared technology to scan the room and make adjustments based on human heat signatures.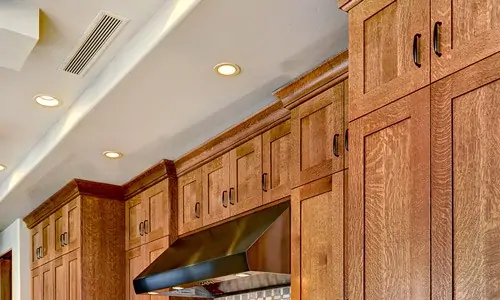 Horizontal-Ducted Mini-Split
New home construction is the perfect opportunity to take advantage of the efficiency and unique design of Mitsubishi Electric Zoned Comfort Solutions™. Horizontal-ducted units use less ductwork than traditional systems, and can be concealed above the ceiling or beneath the floor.
Out of Sight
Short-run, low-profile ductwork can be useful for concealing these units above the ceiling or beneath the floor.
Automatic Mode Changes
Systems can automatically cycle between cooling and heating modes to maintain consistent temperatures.
Whisper-Quiet Operation
Indoor units are "as quiet as a whisper." Your comfort lets you know the system is working even though you won't be bothered by the sound.
Discreet
Since they're installed above or below a room, these systems can keep you comfortable year-round without compromising aesthetics.
Precise Comfort and Remote Control
Like other models, these are equipped with remote control units or the ability to operate the system using your smart device.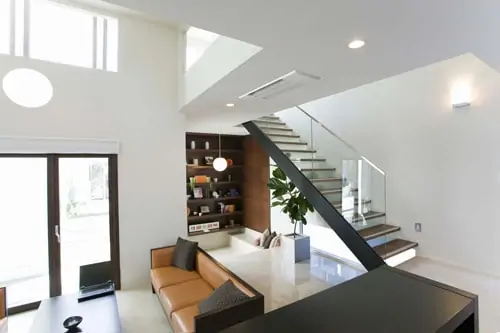 Ceiling-Cassette (Suspended) Mini-Split
One-Way and Four-Way ceiling-cassettes feature sleek, modern designs and blend well with your ceilings to let you direct cool air where it's most needed.
Controls Airflow
Send the air where you need it most by remotely adjusting each vent.
Improves Air Quality
Good air quality helps protect the health of your family with advanced filtration features to ensure better, fresher air in your home.
Remote Operation
You can monitor and adjust your system with a remote control or from your smartphone or tablet.
For All Ceilings
One-way cassettes fit between standard 16" joists. Four-way cassettes fit easily into a dropped or hard ceiling with only a small access panel required for servicing.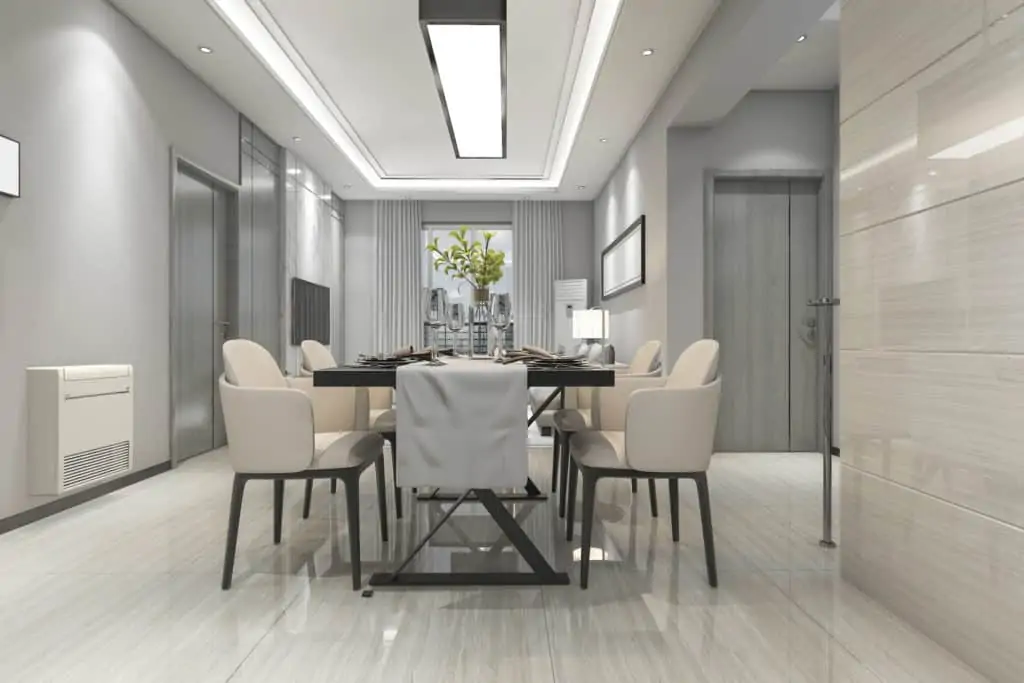 Floor-Mounted Mini-Split Heat Pumps
With this configuration, multi-flow vanes allow for fast warm-up and efficient operation.
Healthier Indoor Air
Sophisticated multi-part filtration systems reduce contaminants such as allergens, viruses, and bacteria from the air.
Performance In Cold Climates
Hyper-Heating INVERTER® technology provides exceptional performance down to -13° F outdoor ambient temperature, with 100% heating capacity at 5° F outdoor ambient.
Whisper-Quiet Operation
Both the indoor and outdoor units are extremely quiet. Indoor units operate as low as 19 dB(A) – which is even quieter than a whisper.
High-Efficiency Inverter Technology
Traditional heating and cooling systems operate on an inefficient cycle, being either 100% on or 100% off. With Mitsubishi Electric's inverter-driven compressor technology, our systems continuously measure conditions and then adjust compressor and fan speed up or down to maintain the desired temperature.
Other attributes include easy-to-access, washable filters, hot-start technology, and remote control.
Mini-Split Systems Installed By Haley Mechanical
Homeowners considering the advantages of a mini-split are making a move toward a less invasive system that offers energy efficiency, a reduced carbon footprint, and more.
Haley Mechanical invites residents of SE Michigan to contact us today to learn more about the various types of mini-splits.
Prefer email? Send us a message about your project or repair and we'll get back with you shortly.