Modine Hot Dawg Garage & Workspace Heaters
Hot Dawg Residential Gas & Hydronic Unit Heaters
Heating your residential workshop, garage, or another outbuilding can be a challenge. Haley Mechanical is now offering a great way to block the chill for those in Southeast Michigan – the Modine Hot Dawg heaters available for use with gas or a hydronic model, the Hot Dawg H2O for use with a hot water boiler. Three new appearance packages along with a Special Edition black model are now available in celebration of Modine's 100th anniversary.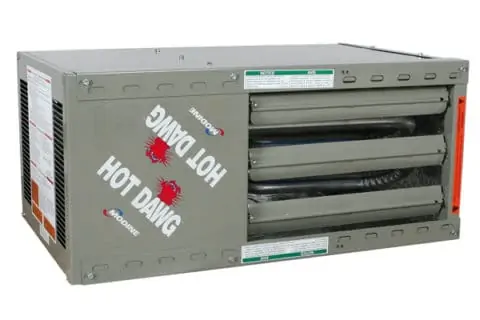 Model HD – Hot Dawg Power-Exhausted Gas-Fired Unit Heater
Features include:
Operates using natural or propane gas
Super quiet operation
Permanently-lubricated motor means trouble-free reliability
Easy to install & lightweight, installs 1 inch from the ceiling using two angle brackets (comes with sizes 30-75, a separate accessory for 100, 125)
Small diameter vent pipe & standard power exhaust makes a roof or side-wall venting simple
Single or two-stage direct spark ignition controls, 100% shut-off with sustained retry
The heat exchanger has a full 10-year warranty
All 30-75 units offer right or left-hand controls. Flip the Hot Dawg over and changing gas, electric and flue connectors is a simple task
Neutral color & low-profile design allows the heater to blend seamlessly with the decor
Knockouts for quick access to electricity & gas, field wiring connections for fast installation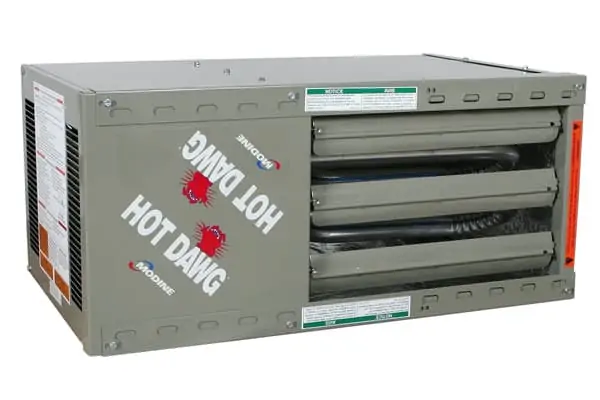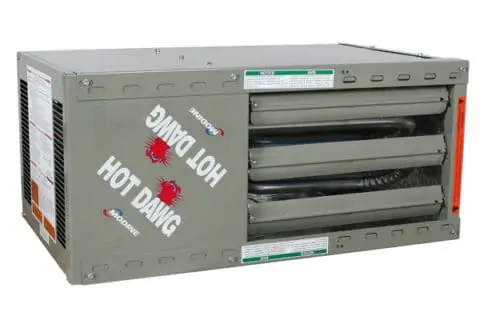 Model HDS – Hot Dawg Separated Combustion Gas-Fired Unit Heater
Features include:
All of the features available with the HD above
Reduced maintenance & greater durability thanks to a fresh air supply that reduces environmental concerns such as excess dirt, dust, or humidity
Increased overall heating efficiency as combustion air is drawn from outside
Because combustion air is drawn from outside the heater has clean, fresh air to breathe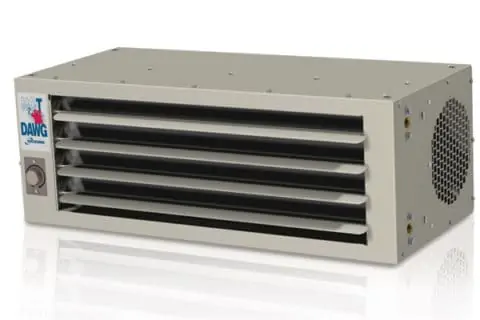 Hot Dawg H2O for Hot Water Boilers
Features include:
Vertical or horizontal air delivery as unit can be mounted perpendicular, parallel or between joists
Easy, flexible installation
Noise & vibration kept to a minimum with vibration isolating mounting brackets
Twin centrifugal blowers mean no external components – all moving parts located inside heavy gauge steel cabinet
Robust internal coil capable of managing water temperature of up to 200° Fahrenheit and water pressures up to 150PSI
Low-profile design
Finger-proof inlet air openings on side panel
Warranty
As a Modine Hot Dawg dealer, Haley Mechanical is proud to offer you and additional year on parts coverage, for a total of 3 years.
Haley Mechanical
Depending on your heating needs and the model you choose, Hot Dawg Gas-Fired Heaters can provide between 30,000 and 125,000 Btu/Hr, input for applications that range from the size of a small garage to large spaces. With the Hot Dawg H2O heater BTU/hr ranges from 20,600 to 36,600 depending on model, airflow, and whether operated at 140° or 180° Fahrenheit.
To learn more about Hot Dawg heaters and how they can warm up your garage or workspace, contact Haley Mechanical today. We proudly serve customers in Ann Arbor, Chelsea, Dexter, Ypsilanti, Howell, and nearby cities throughout SE Michigan.
Prefer email? Send us a message about your project or repair and we'll get back with you shortly.