Boiler Repair, Replacement and Maintenance
When it comes to the frigid Ann Arbor winters, the best thing you can do for you and your family is to be prepared. A properly working boiler can help keep you comfortable and warm indoors, no matter what the weather is doing outside.
You can count on Haley Mechanical to help install a new boiler or repair an existing one. We offer friendly customer service, convenient scheduling, and unparalleled experience in the HVAC industry.
At Haley Mechanical, we understand what it takes to keep Michigan families comfortable and warm – even during the most brutal winter weather.
Ann Arbor Boiler Installation
If you're looking for a heating system that is built to last, a boiler is for you. A properly installed and maintained boiler can last for decades, offering peace of mind during the winter months. There's one other significant benefit to boilers as well: They can distribute heat in homes without ductwork. This makes them ideal for older homes.
We offer and install the industry's most dependable boilers. Our experienced technicians can help make sure that you stay warm and comfortable in your home all year round.
Ann Arbor Boiler Replacements
While boilers last a long time, there comes a day when yours may no longer work the way it used to. When yours is on its way out, call the friendly experts at Haley Mechanical. We can help you choose the right make and model for your home. We can also help you find an efficiency rating that matches your family's needs.
Our friendly experts remain with you from choosing the right boiler to installing it in your home.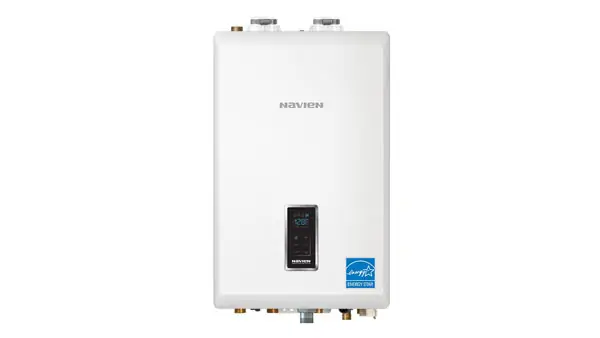 This first of its kind combi-boiler from Navien allows homeowners to heat their home and produce hot water at the same time. The unit produces enough hot water to simultaneously run two showers and the dishwasher. The NCB-E takes up to 80 percent less space than its counterparts, and uses less energy, with lower installation costs making it a practical choice.
Viessmann offers a line of dependable, long-lasting boilers that can keep Ann Arbor residents warm and cozy through a long winter. With Viessman, you'll have an extended service life, and an Energy Star rated boiler that you can count on when the temperature plummets.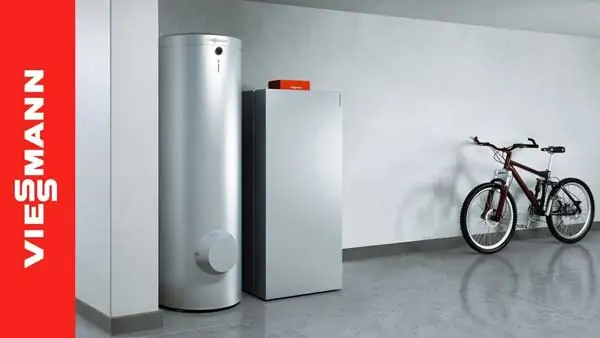 This gas-fired boiler offers a high efficiency 95 percent AFUE and can heat as high as 194 degrees Fahrenheit (not that you'd ever need it). The heat exchanger is made of SA240 316 Titanium compared to aluminum & stainless steel most are made of. You'll be well-insulated from the frigid temperatures outside.
Viessmann Vitodens 222-F Boiler
This model exceeds Energy Star requirements, and operates up to 98 percent efficiency at full modulation, with a 95 percent AFUE. It offers fast heat up, and a space-saving design, with a small footprint.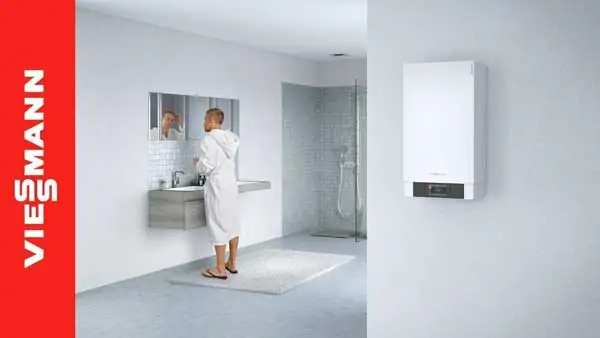 Viessmann Vitodens 200-W Boiler
This boiler offers some of the best value in its class with a blend of new technology and standard boiler features including an award-winning control unit that reduces fuel consumption up to 15%. It's a gas-fired and wall-mounted condensing boiler with a modulating stainless-steel cylinder burner. Operating at a whopping 95% high-efficiency!
Viessmann Vitodens 100-W Boiler
This boiler fits any home and budget with an attractive price. It also offers a user-friendly backlit LCD touchscreen for easy and convenient control. This boiler operates efficiently and quietly – making less noise than your refrigerator.
Lochinvar Brand Boilers – New, Repair, and Service
KNIGHT boilers from Lochinvar include features that lead the industry. Standard features include a built-in 110V convenience outlet for powering installation equipment, lighting, or the condensate pump. Other features make it easy to connect PVC, stainless steel, CPVC or polypropylene directly to the boiler.
Standard equipment includes a variable speed ECM pump, a technology that helps lower operating costs by saving electricity.
Additional standard features include:
Modulating burner with up to 10:1 turn-down
ASME stainless steel heat exchanger
Boiler circulating pump
Automatic reset high limit
Adjustable high limit with manual reset
Zero clearances to combustible materials
Smart System control
The Lochinvar Smart System is a user-friendly system providing numerous benefits including a set-up wizard for quick, easy programming. Save energy when your family is away from home by setting your boiler to vacation mode; when weather conditions vary, change the set-point automatically using the outdoor reset with boost function. Reduce cycling and extend run time with ramp delay. From variable speed boiler pump control to increase performance and save electricity to system status and diagnostic information, the Smart System is unparalleled for boiler monitoring and control.
Lochinvar Water-heater/Boiler Combination
The Noble™ fire tube combi boiler is a money-saving solution that delivers both hot water and comfortable space heating.
Lennox Brand Boilers – New, Repair & Service
If you have been considering a more efficient way to heat your home, you may have thought about residential boilers. Whether you are planning in advance for an eventual problem with your old system or have experienced a breakdown with your equipment, Haley Mechanical offers a complete line of Lennox® products designed to work with radiant heating systems. These include gas and oil boilers, water boilers, and steam boilers.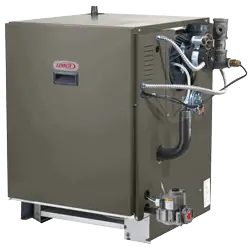 GWB8-IE Gas-Fired Water Boiler
Reliable, efficient operation in colder climates. The GWB8-IE offers an efficiency of up to 84.4% AFUE, meaning it can deliver significant energy savings compared to an older boiler. So even if winter brings its worst, you'll stay comfortable without worrying about energy use.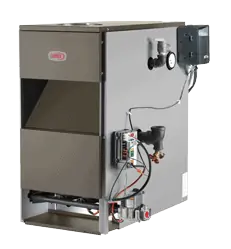 GWB8-E Gas-Fired Water Boiler
Efficiency all winter long. The GWB8-E offers an efficiency of up to 83.9% AFUE, meaning it can deliver significant energy savings compared to an older boiler. That means you can enjoy a comfortably warm home all throughout the winter, without worrying about energy use.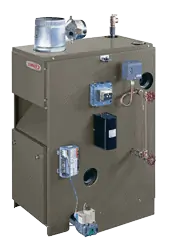 GSB8-E Gas-Fired Steam Boiler
Worry-free performance. The GSB8-E offers an efficiency of up to 82.7% AFUE, meaning it can deliver significant energy savings, compared to an older boiler. That means you can relax comfortably about your energy use.
Friendly and Experienced Boiler Service
We understand that boilers can be an overwhelming and confusing topic. But they can be an extremely convenient choice for both durability and energy efficiency. The experienced technicians at Haley Mechanical can walk you through the process of choosing the right boiler for your home, as well as provide any maintenance, service, and installation.
Take the necessary steps today to ensure that your family experiences a comfortable and warm indoor environment when the outdoor temperatures plummet. Contact Haley Mechanical to find out more about your boiler needs!
Prefer email? Send us a message about your project or repair and we'll get back with you shortly.