Furnace Repair, Installation and Maintenance
When brutal cold weather moves into southeast Michigan, don't get left out in the cold! A Lennox® gas furnace will help you save on heating costs and stay warm despite the frigid temps outside. Call us today at 1-734-304-8980 to have our skilled technicians install your new furnace!
The Benefits of a Lennox® Gas Furnace​
Lennox® Gas furnaces offer the ultimate in quality and efficiency, keeping your home thoroughly heated while saving money and energy at the same time!
With a Lennox® Gas Furnace, you'll enjoy:
Efficiency ratings ranging from 80% to as high as 98.7% AFUE provide minimum fuel waste while saving you hundreds of dollars per year
Dual-fuel systems are comprised of a gas furnace and electric heat pump, delivering energy efficiency and maximum comfort
Innovations like their Precise Comfort® technology allow you to maintain the perfect home temperature (within .05 degrees of your ideal temp!)
SilentComfort technology offers peace and quiet upon start-up and during operation
ENERGY STAR® certified models may qualify for local utility rebates and federal energy tax credits
Lennox® gas and oil furnaces are manufactured with the highest-quality materials, providing dependable operation for years to come
Contact Us Today To Find Out More About Lennox® Furnace Installation!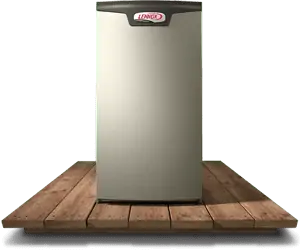 SLP98V Variable-Capacity Gas Furnace
With industry-leading efficiencies of up to 98.7% AFUE*, the SLP98V can save you hundreds of dollars in utility costs every year. This product has been designated as one of the Most Efficient ENERGY STAR certified products in 2019. Products that are recognized as the Most Efficient of ENERGY STAR in 2019 prevent greenhouse gas emissions by meeting rigorous energy efficiency performance levels set by the U.S. Environmental Protection Agency.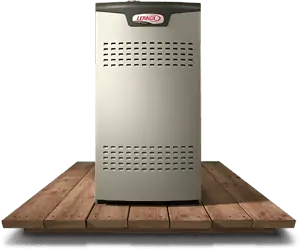 SL280V Variable-speed, Two-stage Gas Furnace
While most furnaces are either off or on, the SL280V can actually deliver two different levels of heat based on how cold it is outside. This lets it fine-tune fuel use to carefully match your comfort, keeping your home warm and energy-smart. A variable-speed blower maintains comfort with an adjustable flow of air, preventing temperature swings and blasts of air when your system starts. ​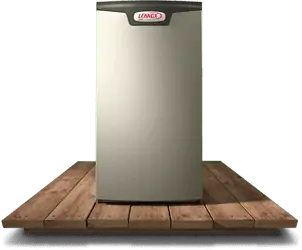 EL296V Variable-speed, Two-stage Gas Furnace
The EL296V can adjust its airflow speed, allowing it to gently disperse even heat throughout your home. Variable-speed airflow also prevents blasts of air when the system starts.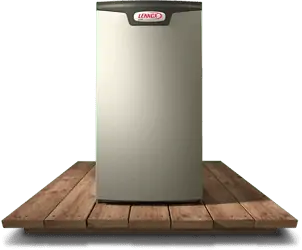 EL196E High-Efficiency Gas Furnace
Reliability Inside. Enjoy warmth as well as peace of mind. The EL196E, like all Lennox products, undergoes rigorous testing in our lab using proven technology from our industry-leading platform, ensuring the utmost in reliability.
Single-stage, 96% fuel-efficient gas furnace with Power Saver™ constant-torque motor design. Welcome to the Lennox® standard of excellence. Merit® Series is the introductory product line that raises the bar for heating and cooling equipment. Don't settle when it comes to the air inside your home–ask for more. Ask for Merit.
Haley Mechanical's skilled service technicians can save you money by extending the lifespan of your furnace! We understand when you need furnace repair or replacement. If your furnace is less than twenty years old, repairs are often the solution. Our service professionals have experience with the following common furnace problems:
Faulty Wiring
Continuous Blowing of Hot Air
Gas Leaks
Part Replacements, Including Pulleys, Motors & Belts
Emergency Repairs
If your furnace needs repairs, don't wait. Putting off necessary repairs can often lead to a more expensive problem and cause an even greater inconvenience down the road. Contact Haley Mechanical to repair your furnace today!
Our Furnace Repair Process
Step One: Call us at 1-734-304-8980 or visit our website to set up an appointment with our service crew.
Step Two: We will arrange a convenient time to come to your house and examine your furnace. We make sure that your furnace problems are attended to as quickly as possible and don't leave you waiting for answers.
Step Three: Our service professionals will visit and diagnose your furnace repair. Before we perform the needed repair work, we will go over your options with you so you stay informed every step of the way. We'll also provide an estimate so you know how much the expected repairs will cost.
Step Four: Once we've discussed the best options with you and you've made a decision on how to proceed, we'll start the repairs. Often, the necessary repairs will be completed in a matter of hours.
Step Five: Avoid unnecessary repairs in the future by scheduling regular furnace maintenance with Haley Mechanical.
Make sure that your home stays warm when it's bitter cold outdoors with regular furnace maintenance!
Proper maintenance can extend the life of your furnace, maintain warranty coverage, and help you avoid unnecessary inconvenience and emergency repairs in the future.
Tips For Maintaining Your Furnace
When the harsh Michigan winter sets in, no one wants to have to deal with a faulty furnace. But, there are some things you can do to make sure your furnace is prepared to take on the long, cold winter in its top condition.
The heating pump should be placed above snow levels to make sure it can run efficiently.
A stone base can help keep the coils free of dirt or grass.
Regularly replace the air filter – A dirty filter can lead to many problems with today's furnaces. Cleaning or replacing the filter on a monthly basis will prevent the furnace from having to work excessively hard.
Check the battery on your thermostat – Uneven heating through the home can be due to the battery in your thermostat. If you replace the battery it often resolves this issue. This is often the easiest solution to this problem. If the uneven heating persists, contact a professional.
Everyone should schedule an annual furnace maintenance service by qualified professionals.
Annual furnace maintenance is a must if you want to maintain your furnace's warranty. If you have an older furnace, it's best to schedule an annual maintenance check-up every six months.
These are the intervals most often recommended for furnace service industry-wide.
Contact Us to Schedule Your Annual Furnace Maintenance Check-Up Today!
Prefer email? Send us a message about your project or repair and we'll get back with you shortly.