The Daikin Fit System - Quiet & Compact AC
Designed to Fit the Space, Home, Budget & Comfort Needs of SE Michigan Homeowners
Imagine a system that offers perfect temperature and humidity levels inside your Southeast Michigan home, indoor "weather" that provides the ultimate in comfort in a way that is innovative, technologically advanced, space-saving, and most importantly saves you on energy costs. This is what you get with Daikin Fit™, a system that makes it possible for you to create your unique ecosystem.
The Daikin Fit
A smart HVAC system that connects to traditional ductwork and never compromises when it comes to comfort, the Daikin Fit™ is a side discharge system offering a low profile outdoor unit, ideal in situations where a traditional cube style outdoor unit isn't suitable. With a premium mid-efficiency inverter amidst a market overflowing with costly high-tiered inverters, the Daikin Fit™ provides an affordable option.
COMFORT
Expect more
The Daikin Fit™ system maintains a consistent temperature, so you never experience a home that feels colder or hotter than you like. This is possible because as an Inverter unit, it operates without interruption, adjusting the speed of the compressor to meet the demand. Your family will enjoy comfort as you have never experienced before.
SPACE
No longer are you limited by a cube style HVAC box
Traditional "cube style" HVAC boxes are not ideal for every home; sometimes space is limited. Why compromise the beauty or design of your outdoor areas and landscape when the Daikin Fit™ systems compact size allows you to enjoy supreme comfort without compromising?
BUDGET
Save your money for important things like family time
Cooling and heating a home accounts for the majority of energy costs. While you don't want to compromise when it comes to comfort, you would like to keep more of your money for more important things such as spending time with family. Meet your budget and efficiency goals by investing in HVAC technology that is state-of-the-art with the Daikin Fit™ system.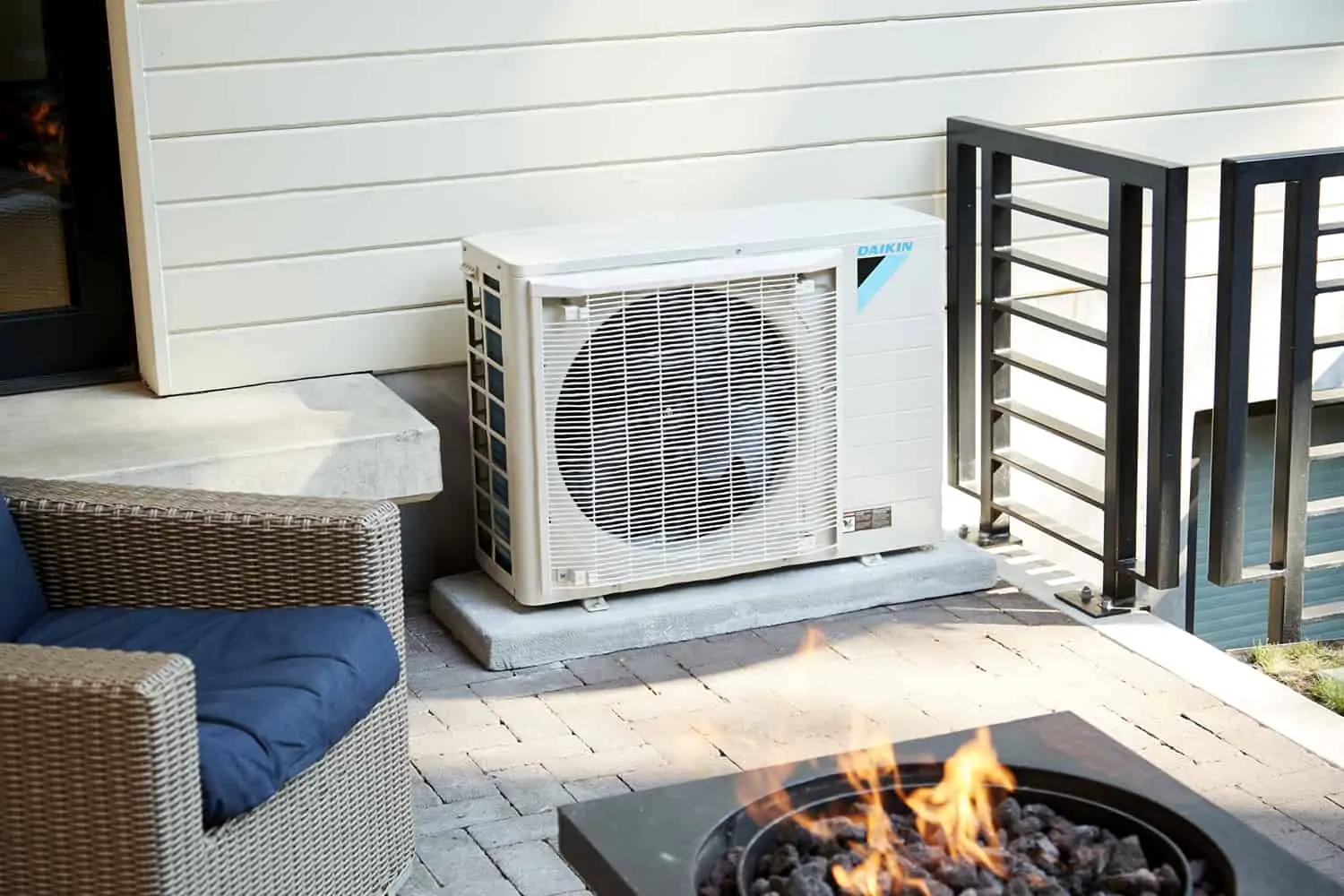 Daikin Fit™ DX17VSS Outdoor Unit Features
Blue Fin Corrosion Coating. Coil stays cleaner longer thanks to hydrophilic coating; 1,000 hours salt spray rated as standard.
Variable Speed DC Fan. Enjoy high-efficiency operation along with low sound levels.
Ultra-Quiet Operation. High efficiency without significant noise. Outside, the unit has a rating of 46dB (Similar to a Quiet suburb, conversation at home. Large electrical transformers at 100 feet.) Inside noise is rated at 19db (about the same level as rustling leaves)
7mm Coil. Compact casing design, high heat exchanger efficiency.
*Loans provided by EnerBank USA, Member FDIC, (1245 Brickyard Rd., Suite 600, Salt Lake City, UT 84106) on approved credit, for a limited time. Repayment terms vary from 24 to 132 months. Interest waived if repaid in 365 days. 17.99% fixed APR, effective as of April 1, 2020, subject to change. Interest starts accruing when the loan closes.
Interested in the Daikin Fit™ system for your Ann Arbor or SE Michigan home? Trust the dedicated HVAC professionals at Haley Mechanical to deliver products and services beyond your expectations.
Why Choose the Daikin Fit™ System?
Considering you no longer have to worry about "cube style" outdoor units, space, energy efficiency or your family's comfort, the Daikin Fit™ system is a smart choice for those looking for an alternative solution that provides affordable comfort with a connection to traditional ducted solutions.
Industry Leading 12-Year Limited Warranty
The Daikin name is one that is highly respected in the heating and cooling industry, one that is known for fulfilling its promises. The commitment and length of their limited warranties reflect the high standards of their manufacturing processes. That's why all Daikin brand products provide outstanding limited warranty protection. Why would you settle for anything less?
Prefer email? Send us a message about your project or repair and we'll get back with you shortly.